The idea behind steam cleaners is to make short work of cleaning floors and surfaces. It does this by heating up water to produce steam at high pressure, which in turn gets rid of germs, dirt and grease in record time. But in reality, many steam cleaners fail to deliver what they promise, meaning that you really need to do your homework before buying one.
First off, work out what type you need – a steam mop or handheld steam cleaner, a combination of the two, or a cylinder steam cleaner. A steam mop is an upright machine with a water tank attached to the handle and is designed to clean hard floors, while handheld machines are more compact and aim to keep anything from ovens to showers clean and sparkling (usually with attachments for different surfaces). Increasingly, you can find machines that do both – acting as an upright model with a removable hand-held unit, usually built into the handle. The cylinder steam cleaner is also designed to tackle all the jobs of steam mops and handheld cleaners combined – and thanks to the barrel-shaped main body, they produce long steaming times, although they tend to take longer to get ready for use and are heavier.
Check your machine has all the attachments you need – a squeegee to clean glass, for instance, or a scrubbing brush for grout. How long does it take to heat up and even more importantly, how long does the tank last (as this can range from eight minutes to continuous)? Also research what the machine you want to buy excels in – rarely do they shine at everything they say they do.
1. Shark Klik n Flip Steam Pocket Mop: £119.99, Lakeland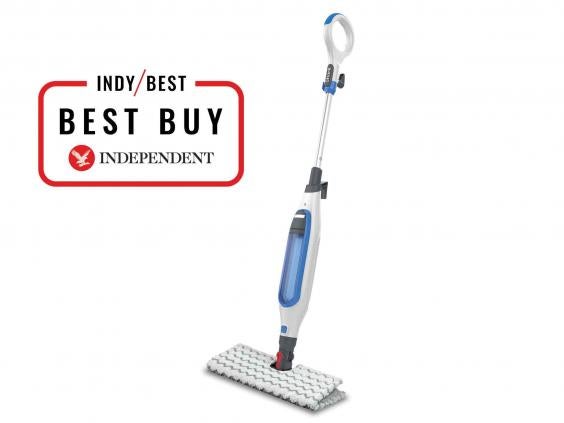 Even the muddiest of footprints and stickiest of jam poses no challenge for this superb steam mop, which heats up in around 30 seconds and lasts over 20 minutes on a full tank, leaving surfaces near-dry straight after use. And because it uses double-sided pads, which can be flipped over when one side gets dirty (then bunged in the washing machine), you can clean twice as much floor in one go. It's first-rate at stains too, but you can only use it on hard floors.
2. Thane H20 HD: £89.99, Very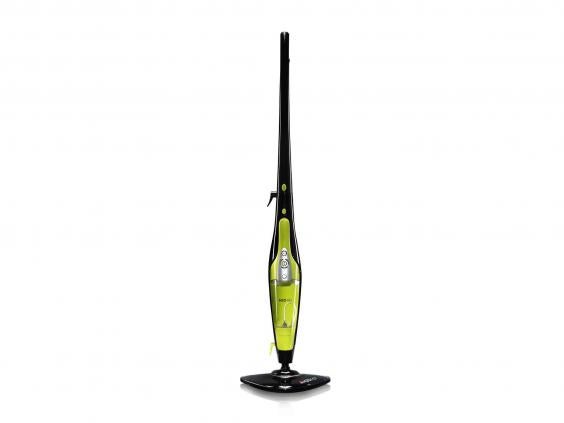 This can work as both a handheld machine for the likes of grouting and tiles, and as an upright mop for floors, including ceramic, lino, stone, wood, parquet, marble and carpet. The head swivels, which makes it a boon for difficult corners, and anyone in a hard water area will be grateful for the effective limescale filer. You get plenty of accessories including an angled nozzle and tools for window cleaning and dusting, plus various absorbent machine-washable cloths -  and although there's only 10 minutes of steam time in one go, it's easy to refill the tank. Beware though, it leaves the areas it has cleaned wet and it's not great at glass.
3. Karcher SC5: £329.99, Amazon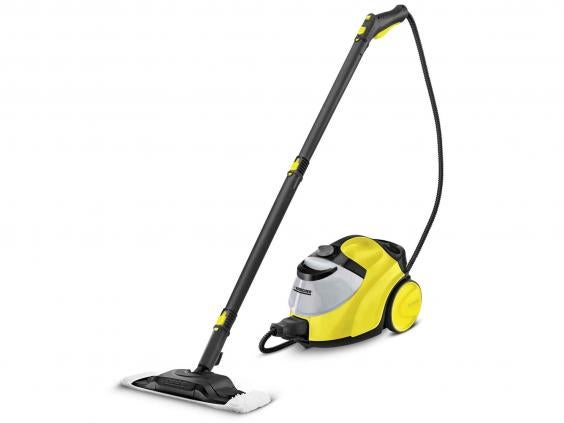 This top-of-the-range cylinder steam cleaner doesn't come cheap, but we think it's worth the extra dosh if you want something with serious oomph and versatility. Plus points include the special mechanism that provides continuous cleaning time and swivelled head that gives a really deep, powerful clean. Plus, it cleans well not only on hard floors but carpets, although the cleaning performance was ever so slightly less impressive on the latter. It can blast the smallest of crevices, along with stairs, with ease and it loosens dirt and removes stains effortlessly, as well as being a cinch to move around.  
4. Bissell Steam Shot Handheld Steam Cleaner: £39.99, Amazon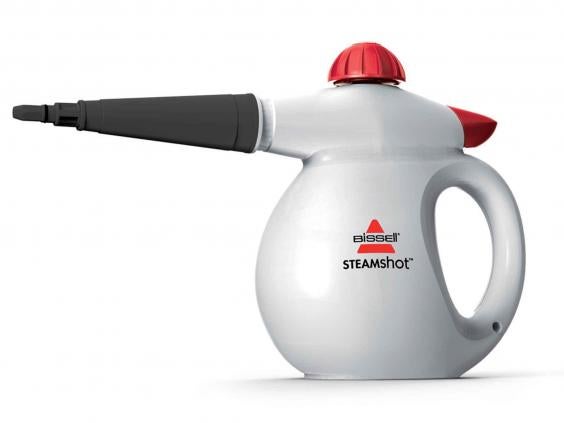 This lightweight handheld steam cleaner comes in at a great price and with a whopping 11 accessories to tackle everything from barbecue grills to windows, as well as shower cubicles to removing wrinkles out of curtains. Designed to be filled straight from the tap, we were impressed, although be warned that you can't use it for more than about 10 minutes on the trot, if that, as your thumb gets sore. And once the tank runs out, you have to let it cool down for at least five minutes before you can refill it and use again.
5. Vax Steam Fresh Power Plus Steam Cleaner: £99.99, Argos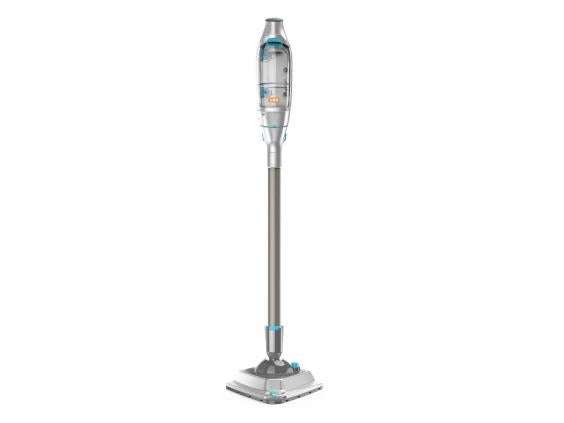 This two-in-one steam mop is a joy to steer and use, thanks to the unique handstick design and swivel head, and it does a good job on both hard floors and carpets (although less so on walls), without leaving them dripping wet. It stays powerful, no matter how long you use it, and the pull-out scrub brush is good for stubborn areas. There's a limescale filter too, but you only get steam for around eight minutes and it's a shame you don't get accessories for grout, tiles and windows – although there is an additional kit you can buy for that at £40.
6. Polti Vaporetto Classic 65: £199.99, Lakeland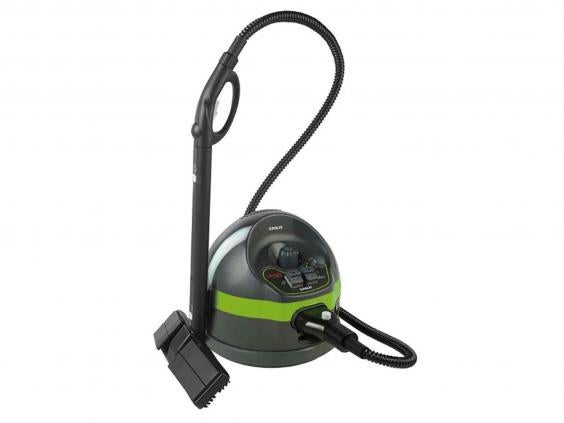 This Italian brand has been making pioneering irons and home cleaners since the late 1970s. You'll be impressed by the steam power as soon as you get this going and we found it worked a treat on everything from kitchen floors to grouting on tiled walls and from sofas to glass. The wheels mean it's easily manoeuvrable and there's a wealth of handy accessories including brush, nozzle, squeegee and extension hose, while the large tank means it lasts ages in one go. But the floor takes quite a while to dry afterwards and really deep-rooted stains may need going over a couple of times.
7. Russell Hobbs RHMSM3002 Steam and Clean 11-in-1 Mop: £59.99, Argos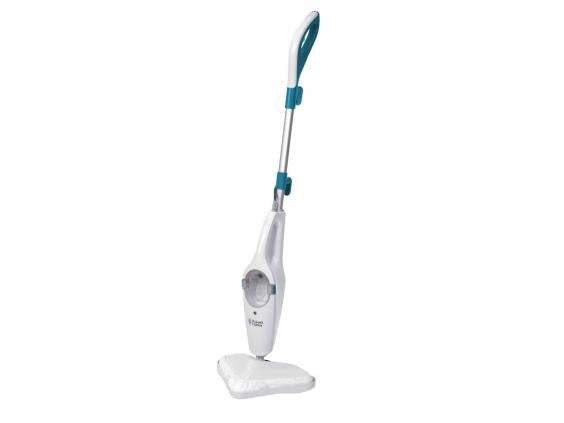 This doesn't quite have the whistles and bells or power of the more expensive machines in our round-up, but it's a great budget buy that's lightweight, robust and easy to store away, as well as heating up in under 15 seconds and providing 15 minutes of continuous steam before the tank needs refilling. The more modest steam levels mean it's better in handheld mode, although it's not bad on tiles (but rubbish on carpets), with the exception of really sticky patches and very engrained stains. The wide range of tools includes angle nozzle, upholstery tool, scraper tool and round brush, among others.
8. Morphy Richards Supersteam Pro 720520: £89.99, Amazon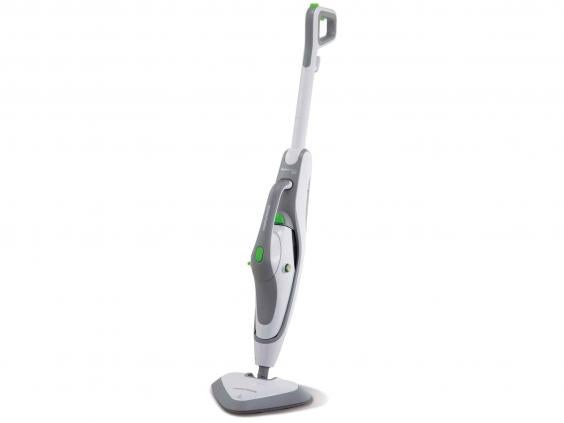 Here's another machine that can be used upright on floors or as a detachable handheld unit. We found it was good at pretty much everything (except removing sticky patches like spilt drinks or sauces) and it doesn't leave floors really wet. It feels robust and handy accessories include carpet glider, scraper, upholstery head and crevice nozzle. It's heavier than most, though.
The Verdict: Steam cleaners
If you have hard floors that you struggle to keep clean, we very much doubt you will regret investing in a Shark Klik n Flip Steam Pocket Mop. For a cylinder option, we rate the Karcher SC5, although it is pricey, and for a two-in-one machine, we liked the Vax Steam Fresh Power Plus best, although it's not brilliant for walls.
Reuse content